Socrates' exhortation to the "City of Pigs"
... and why nobody follows
Abstract
In this essay, I shall argue that, contrary to common assumptions, Plato's so-called "City of Pigs" (Pl. rep. 372a3–373b1) is by no means an anti-philosophical state. Refuting this assumption, I aim to show that the dialogical context accounts for the interlocutors' rejection of this state: it is, I argue, an economic system that stands at the outset of the ideal state's foundation as its basis. This system illustrates metaphorically, represented by population groups and concrete lifestyles, a hierarchy according to which necessary and non-necessary human needs ought to be satisfied. However, Socrates' idea of what necessary needs are (depicted in the "City of Pigs") seems all too meagre to Glauco personally, highlighted by his coinage "City of Pigs". Precisely this makes Socrates realize that the moderation he has in mind – rendering the system "healthy, true" (and by the way vegetarian) – would demand too much from average people. Thus, despite his explicit preference for that City he makes no attempt at rejecting Glauco's prototypical wish. Instead, he modifies this system of needs accordingly, thus turning it "luxurious, inflamed", even if its very abundance will lead to resource scarcity (and eventually war). Only at this stage does the dialogue face problems for which there has been no room in the preceding economic discourse: a splitting of society into specialised classes, the education of the guardian class, political power, etc. that gradually establish the ideal state. At its beginning, however, we encounter – in the form of the "City of Pigs" – an often misjudged plea for moderation (and vegetarianism) that, as Socrates recognizes melancholically, is not (yet) suitbale to the people (of his time).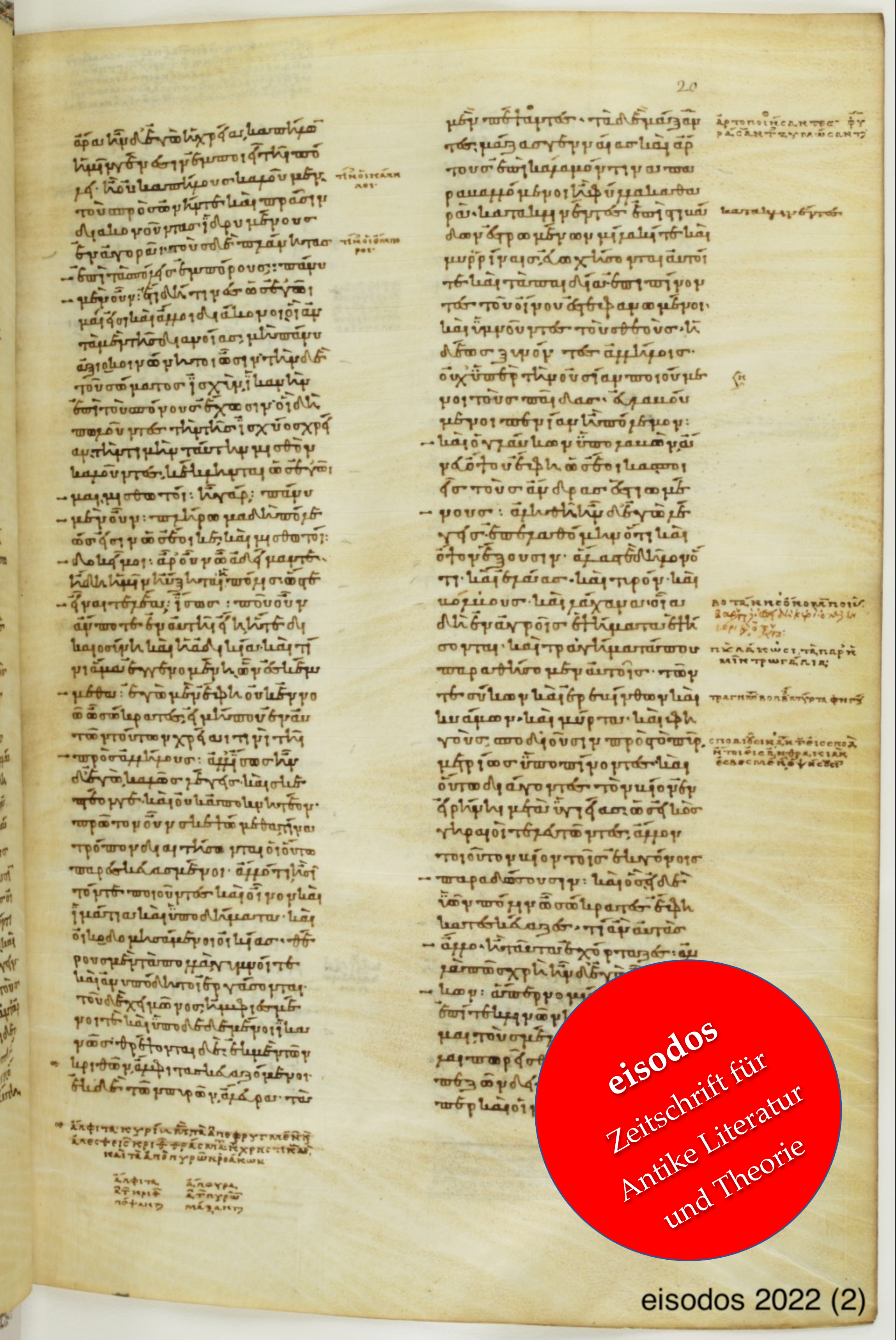 Downloads
Lizenz
Copyright (c) 2022 Benny Kozian
Dieses Werk steht unter der Lizenz Creative Commons Namensnennung 3.0 International.
Autorinnen und Autoren, die in eisodos einen Beitrag veröffentlichen, bleiben in Besitz des Copyrights, garantieren aber eisodos das Recht auf Erstpublikation. Mit der Publikation wird der Artikel einer Creative Commons Attribution License (CC BY) unterstellt, die es erlaubt, den Artikel unter vollständiger Nennung der bibliographischen Angaben (Nennung von Autorname und Erstpublikation in eisodos) mit anderen zu teilen.
Es steht den Autorinnen und Autoren frei, ihren Beitrag außerdem in anderen Medien (bspw. auf der universitären Homepage oder als Kapitel in einem Buch) in nicht-exklusiver Weise und unter Nennung der Erstpublikation in eisodos zu veröffentlichen.
Autorinnen und Autoren werden ausdrücklich dazu ermuntert, ihren Beitrag vor und während der Veröffentlichung in eisodos online zu diskutieren (bspw. auf ihrer eigenen oder der universitären Homepage). Dies führt zu produktivem Austausch und zu früherer Kenntnisname und Verwendung des im Anschluss daran in eisodos veröffentlichten Beitrags sowie der Verweisung auf ihn.